From our friends at Regarding Nannies
http://regardingnannies.com/2011/11/12-month-hand-print-calendar/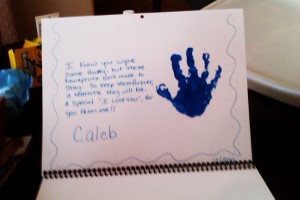 There are certain things that touch a parents heart in a way that nothing else can and it seems that their "handprint" is one of those things. Add a sentimental poem and you have a keepsake.
So what's better than a handprint and a sentimental poem?
Well 12 more, made into art and put into a calendar of course.
Ideally, you would start this in January so the parent can actually see how the child has grown through the year, but you could also do this at anytime. A great gift idea for parents, nanny or family members.
The complete directions for this project can be found here
on Little Giraffes.com
including a link to the printable pages.