Today I am sharing two recipes that my grandmother passed down to my mother, who has since passed them down to me. Every year they are requested by friends ... I can imagine my grandmother in her farmhouse making these for my dad. Enjoy!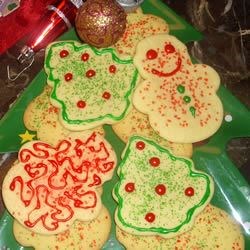 Grandma Brun's Sugar Cookies
Cream: 1 1/2 cup sugar and 1 cup butter or lard (if using lard, add 1/2 teaspoon salt)
Add: 2 eggs, 1/2 cup sour cream and 1 teaspoon vanilla (also 1/4 teaspoon almond extract if desired)
Then add: 3 1/2 cups flour, 1/2 teaspoon baking soda, 1/2 teaspoon baking powder
Refrigerate dough. Then roll out 1/4 inch or less thick. Bake at 375 degrees for 7-8 minutes on greased pans. Frost.

Peanut Butter Krispie Balls
Bring to boil: 1 cup sugar, 1 cup dark Karo syrup
Remove from heat and add: 2 cups peanut butter and 4 cups Rice Krispies
Mix well and form into small balls. Melt semi-swee ice cap coating chips, then dip balls. Cool on wax paper.